How to measure for your cap size
How to properly measure your head to determine your wig size:
Before ordering your wig, please follow these tips to ensure a good fit.
Measure your head using a flexible measuring tape.
How To Measure Your Head:
Before you start:  Flatten your hair as tight as possible before taken your head measurements. This will eliminate bulges that distort head contours.
IMPORTANT: Make sure that you measure ACCURATELY. If you do not measure properly, your wig may not fit. Measure at least 2-3 times to be sure. We take measurements in whole and half inches. So please, round your measurements up not down. Example: 12 3/4 should be rounded up to 13 and 12 1/4 should be rounded up to 12 1/2.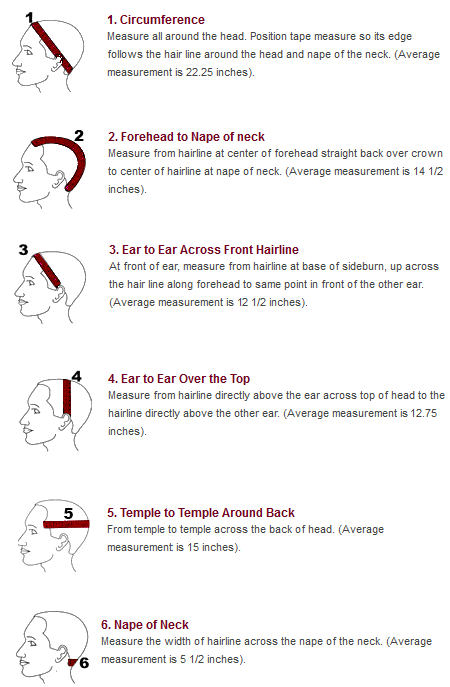 ① Circumference: Measure all around the head. Position tape measure so its edge follows the hair line       around the head and nape of the neck.
② Front to Nape: Measure from hairline at center of forehead straight back over crown to center of
hairline at nape of neck.
③ Ear to Ear across forehead: At front of ear, measure from hairline at base of sideburn, up across the hair line along forehead to same point in front of other ear.
④ Ear to Ear over top: Measure from hairline directly above the ear across top of head to the hairline directly above the other ear.
⑤ Temple to Temple round back: From temple to temple across the back of head.
⑥ Nape of Neck: Measure the width of hairline across the nape of the neck.